Welcome to IRONSHIELD Financial Planning Inc.®! We are pleased that you have chosen to learn more about us—how we started and where we hope to go in the future. Feel free to explore our website to find out more about our mission, our team and our firm belief in helping you with our expertise in financial planning.
History
IRONSHIELD was founded by Scott Plaskett in 1993 while he was in the process of obtaining his designation as a Certified Financial Planner. A year later, he received his CFP licence, becoming one of the first to do so in Canada. Meanwhile, Catherine merged her own financial planning business with Scott's and together, they revolutionized IRONSHIELD from a commission-based business model to a fee-based financial planning model and became co-creators of the KAIZEN Financial Planning Process™, an evolutionary approach to comprehensive financial planning.
As individuals, Scott and Catherine each have their own strengths that make them such compatible partners. His creative mind conceptualizes resourceful ideas, while Catherine's expertise is in developing plans to execute those ideas – a true complement to Scott's entrepreneurial vision.
Now, Scott and Catherine take a more formal approach to their division of strengths when it comes to running IRONSHIELD. Scott specializes in building intimate relationships with business owner clients while Catherine is in charge of planning and strategy. The IRONSHIELD Team dedicates their time to helping clients make smart and well-thought-out financial decisions by maintaining strong connections with a wide range of professionals in all aspects of financial planning, including lawyers, consultants, bankers and mortgage brokers.
Today, the brand of IRONSHIELD is known for being a pioneer in fee-based financial planning and Scott's ingenuity has made him the leading authority in this field. He is also famous for creating an Internet radio show for other financial advisors—the FEE-Based Financial Planning Mastery Podcast, which has over 47 hours of content on iTunes and downloaded over 100,000 times. Scott is frequently reputed to be an excellent thought leader and often recruited as a speaker to the financial planning community. His efforts and accomplishments have recently awarded him the recognition as a MoneySense Approved Financial Advisor as well as being recognized as one of Canada's Top 50 Financial Advisors.
The Plasketts: Scott and Catherine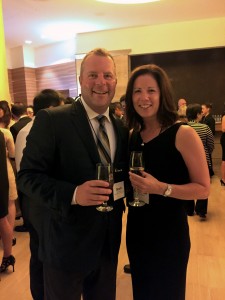 A dynamic duo from the start, Scott and Catherine met when they were colleagues at their former workplace. Scott was working as a financial advisor at the time, and Catherine joined soon after from the banking industry. When Scott confided in her the kind of financial planning firm that he wanted to build, Catherine supported his vision. Over the years they have each brought valuable experience and knowledge to the financial planning industry. They married in 1997 and continue to work together both personally and professionally.
Scott and Catherine have a mutual understanding when it comes to being co-workers and a winning team. They make it a point not to discuss business during their personal time and believe that working with their partner also helps strengthen their marriage. Currently, Scott and Catherine live northwest of Toronto in the Caledon Hills with their two daughters, Devon and Skylar. The family lead an active life and enjoy living both at home and at their cottage in Quebec's Laurentian Mountains.
Looking to the Future
At IRONSHIELD, we feel that financial planning is a life-long pursuit and we strive to offer the best service possible to our clients throughout all the financial stages of their lives. We pride ourselves on our ability to bring "truth" to financial planning and stay up-to-date with the newest advancements in the financial industry in order to help you reach your goals. Scott and Catherine utilize and reorganize the strengths of the entire team to maintain the highest level of efficiency and professionalism. As the team continues to grow and adapt, we encourage you to join the IRONSHIELD family as we move forward together in the financial industry.
 Choose a qualified financial
planner in your area   Careers at
IRONSHIELD   Open your own branch of
IRONSHIELD